about ME
Hi! My name is Krispin. Krispin means curly haired and yes I am. The handsome shaggy dog with me is Boomer. I was born in Boston, MA in 1946, and adopted 6 months later by my two wonderful, loving, parents. We moved to spend my grade school and high school years in the mid-west, just outside of Chicago in Aurora, Ill.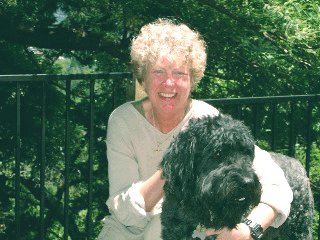 I am a Clinical Nutrition researcher and educator, writing, teaching, and consulting from Incline Village, NV, my new home after almost 40 years in the San Francisco/North Bay/ Marin County area.
I have been practicing and teaching Clinical Nutrition since 1968. In 1988 I received certification and licensing from the National Institute of Nutrition Education. My certification license is renewed yearly through continuing education programs. I am also licensed by the State of California to teach nutrition in California post-secondary schools and once settled, hope to continue teaching locally in my new home, Incline Village, NV. I work individually with clients nationally and internationally by phone, fax, mail and email as well as providing consulting services for authors, physicians and the supplement industry..
I began my education in nutrition during the sixties at the University of Vermont. (What we learned then is so far from what we know now it's embarrassing.) I have continued to study: biochemistry, psychology, exercise physiology, biochemical effects of child abuse; nutrition and its role in degenerative disease; toxicology, parasitology; effects and side effects of the use and abuse of legal and illegal drugs including nutrient deficiencies caused by prescription drugs; chemotherapy and radiation; nutrition and the media; nutrition and government, nutrition policies and economics; and the formulation, manufacturing and marketing of supplements. My latest research covers the human microbiome in health and disease MTHFR genetic mutations, nutrition applications in stem cell therapy, mitochondrial repair after injury and illness and the benefits of phosphoethanolamine in health and disease.
I am a frequent lecturer at post-secondary schools, colleges, community centers, hospitals, and medical centers. In 2009 I added the study of microbiology to my resume, in particular the study of the microbial inhabitants of humans and in November 2010 began to explore the subcellular biochemistry of vitamin C. My current research interest is mitochondrial health and the implications of drugs/medications (legal and illegal) causing mitochondrial damage.
I am also something of a computer nut. I built (am chronically building) my own system and it is just the way I like it (until the next upgrade), lots of memory, hard drive space and speed. My son and I compete in this at times. :) I love the internet and spend a lot of time online doing research in my field. I am constantly pushing for more knowledge, about everything. I try to use what I learn to simplify things instead of making things more complicated- for myself and for my clients.
I finished my first book, Naked at Noon, Understanding The Importance of Sunlight and Vitamin D in 2002 (see info at http://sunlightd.org) and I am working on an update of my Practical Nutrition Workbook to be ready in March 2016.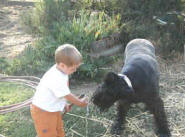 I am a dog person. My almost 12 year old wonderful, loving, beautiful, elegant, brilliant, black Giant Schnauzer , Carmen San Diego (picture on your left in 2002 with my grandson James), di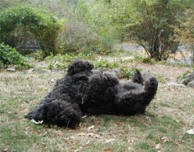 ed in May, 2003. A new puppy, of whom Carmen would resoundingly approve, came to live with me in July of that year. His name was Boomer, to your right, an AKC Dutch Bouvier des Flandres. Boomer was trained for social service, visiting hospitals, veterans, and seniors. He is in the picture at the top with me and here to your right, relaxing in the country. He was a BIG dog, big eyes, big hair, big body, big brain, and big heart. Boomer passed July 4, 2013
Below with Bishop. my new pup is Bruges at about 10 weeks, now two years old and 100lbs. I am sure there will be more pictures as soon as I have time. Puppies require HOURS of exercise. They don't like it when you sit at a computer:)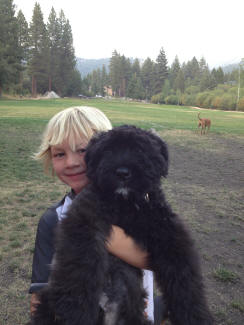 And my greatest blessing of all- I have two mostly grown, dearly loved children and FOUR amazing grandsons who sometimes remember to take their vitamins.


PS: My mostly grown children 'checked out' my page and suggested I tell you about them too (Since I named the animals and all).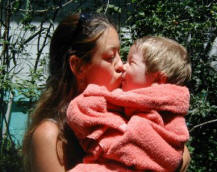 Daughter Bridgett, with first born James on your left, James Leland is pictured in a towel with his mom when he was much younger. On occasion she 'scares me silly' proving her point. She often makes me laugh with joy.
Bridgett, who grew up riding at Dickson Ranch in Woodacre, CA, (She gave up riding for boys some time during puberty.) Between school, tumbling,
various team sports, snowboarding and such, horses drifted to the edges of her life.2014 Bridgett with a degree in psychology is working as a Certified Personal Trainer in Novato and Corte Madera, CA. Her Facebook page shows support for her clients and followers. Besides boot camps and daily classes her clients (and family) attend numerous 'mudders' throughout the region including Tough Mudders in the Tahoe area. She was recently pictured, in muddy pink tutu, in the SFGate.

I have recently been blessed with a fourth grandson, Jo-Jo pictured on your left below relaxing with his dad Joey.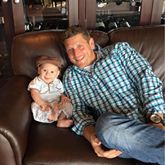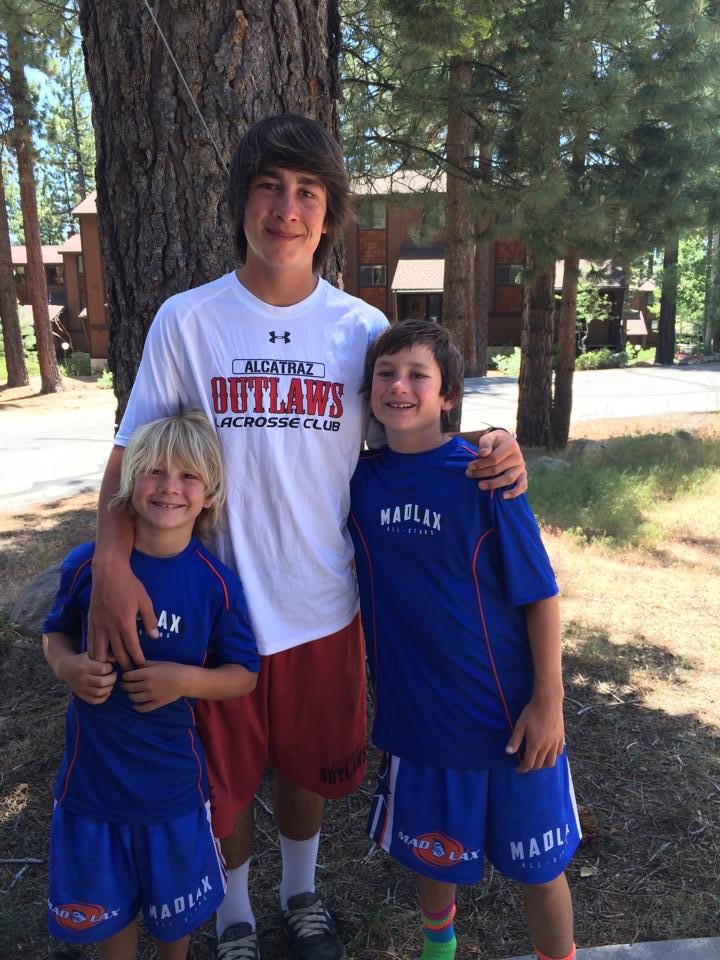 To the right. Bishop, James and Riley. My La Crosse grandsons at a tournament June 2014:)


My son, Elden, below, to your right, reading with King Louis, my now passed Bluepoint Siamese. Elden is a computer genius type, 6'2", good looking, happily married (see next) and a truly nice guy. He writes computer programs for a living, currently for Lyris and we compete (mentioned above), just a little, re our computers. He is the philosopher of the family and loves midnight conversations. He makes me think, really think. He challenges words, thoughts, concepts. I love his challenges, however inconvenient his timing, because his questions always make me grow.
Elden's wife is Zsuzsanna Major from Hungary by way of Canada and finally the US. They met on the job in Pasadena, CA in April of 2001 and married June 8, 2004. They have a great flat in Noe Valley, San Francisco, CA. and will be celebrating their 12th wedding anniversary this year.
I am still discovering the many gifts and talents Zsuzsanna brings to our family. So far these include great home decorating skills, the best (and only) tennis player in the family, a skilled office manager (her employers are lucky to have her), the ability to knit (and share) beautiful winter scarves and make and share beautiful handmade bags, cooking great Hungarian dishes and, most important, she makes my son very happy (and I think it goes the other way too).
Below: Zsuzsu and Zsuzsu with Elden.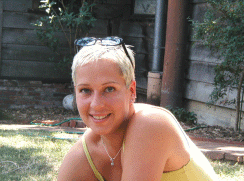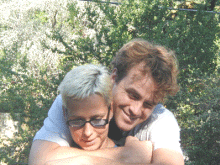 OK, I'm done now. Kids, you are on the net and on the page and always in my heart.
---
Last modified on: March, 2017